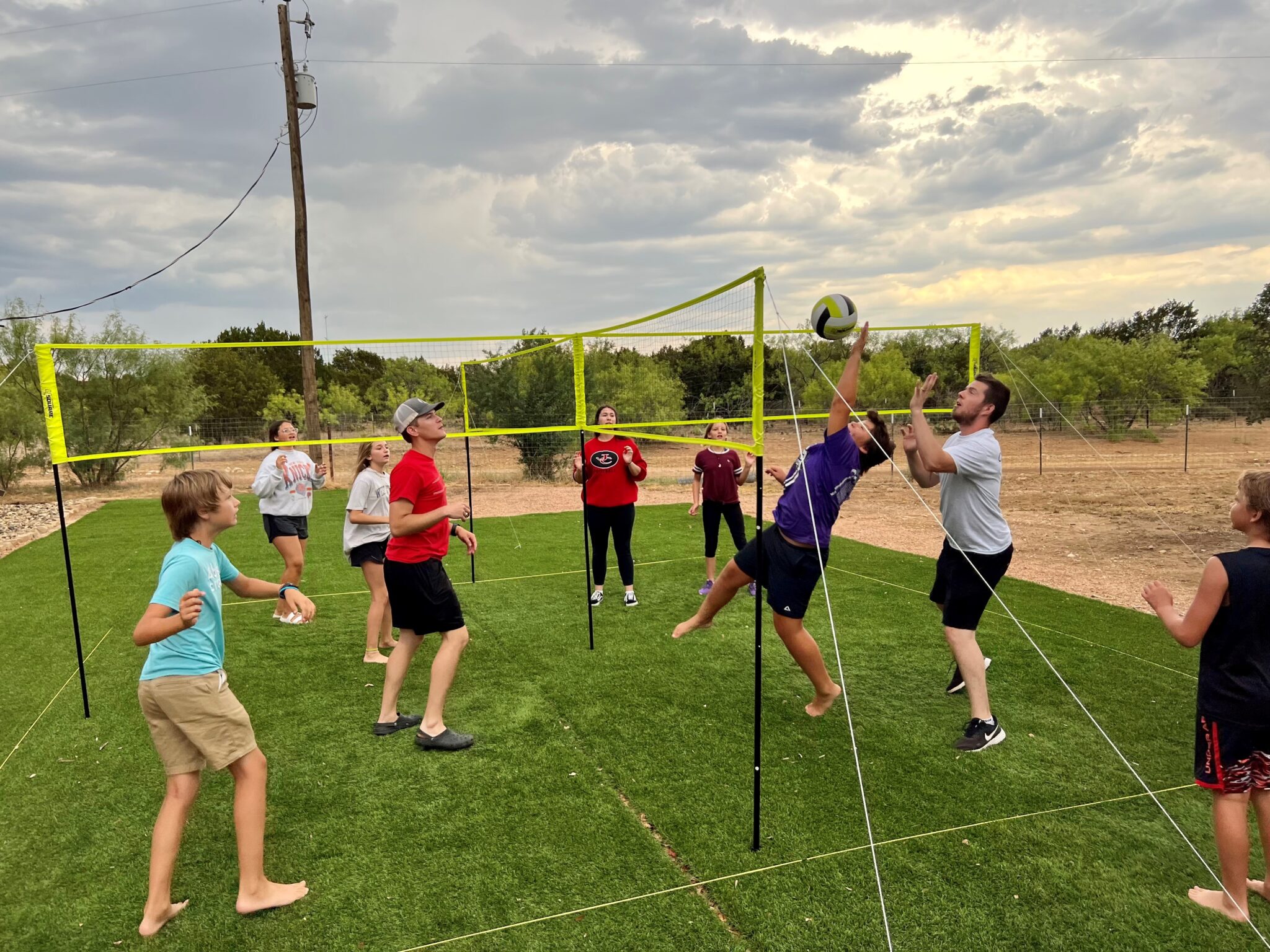 Opening Day
Check-in on Opening Day begins at 3:00 p.m. and should conclude by 5:00 p.m. on each opening Sunday. Upon your arrival, your camper will be directed to the check-in area, where they will learn their cabin assignment, turn in last-minute paperwork, receive counselor bios and get any additional information they may require. Logan Ranch Camp, Inc. ("LRC") staff will also conduct a brief health-care screening and receive prescription medications. 
For liability and safety reasons, please do not bring your pets to camp on Opening day.
Cabin & Bunk Assignments
Bunks are randomly pre-assigned by LRC's camp counselors prior to your Camper's arrival (there is no need to arrive early to get a bunk for your Camper). If your Camper has a special need that requires a certain bunk, please contact us prior to Opening Day so we can make arrangements prior to your arrival.
Medications
If your Camper will be taking medication at camp, please complete the Medication Form included with your Registration Packet. We do not allow medication, whether prescription or over-the-counter medicine, to be stored in the cabins with campers. All medications must be checked in with LRC staff, counselors, or volunteers on Opening Day. Any medications checked in on Opening day should be limited to only what is required for your Camper's session.
LRC keeps a comprehensive stock of over-the-counter medication on-site which allows us the ability to treat a wide range of minor illnesses, aches, etc., as they may occur. Please do not send these to camp; any medication discovered in the possession of any camper will be confiscated, and a parent or guardian will be contacted.
Medications will not be dispensed unless the following guidelines are met:
Prescription medications MUST be in the original pharmacy labeled container or the original manufacturer's container; and
Prescription medications MUST have the camper's name on the bottle.
Electronic Devices
No campers are allowed to bring any electronic devices to Camp. We help campers build significant relationships at Camp as well as benefit from interacting with God's beautiful creation. Digital screens and electronic devices can be a relational block and a distraction from the ideal camp experience. Camp is an incredible opportunity to unplug from technology for a time. Experiences like this are increasingly rare and therefore even more important for today's youth.
Campers may bring inexpensive digital or disposable cameras to capture their camp experience. However, any other electronic device discovered in a camper's possession will be confiscated and held in a secure location for the remainder of Camp, and such device may only be retrieved by a parent or guardian at the end of the camper's session.
Swimwear
At LRC, we want to provide a wholesome environment for all. With that in mind, please make sure to help your Camper pack swimwear that fits properly and is appropriate for a youth camp setting. We reserve the right to ask campers to change their swimwear if it is deemed inappropriate. Our female staff are required to wear one-piece or tankini swimsuits and our male staff are required to wear long swim trunks!
Closing Day
On the last day of each session, check-out begins at 10:00 a.m. and should conclude by noon ("Closing Day"). 
For liability and safety reasons, please do not bring your pets to camp on Closing day.
Additional Health Protocols & Policies
Arrival
All campers and camp staff will be asked the following questions upon arrival to the Ranch:

Have you had close contact with any individual with a suspected or confirmed COVID-19 case?
Are you experiencing a cough, shortness of breath, or sore throat?
Have you experienced a new loss of taste or smell?
Have you experienced vomiting or diarrhea in the last 24 hours?
Have you or a household member had a temperature greater than 100
degrees Fahrenheit in the past 48 hours?
LRC will not allow on the Ranch
Anyone answering "Yes" to any of the questions above and/or with a temperature reading at or above 100.4 degrees Fahrenheit. LRC will require a doctor's note before the camper will be allowed to return to camp; therefore, parents are encouraged to follow-up with a qualified health care professional for COVID-19 testing or diagnosis as appropriate.
Anyone with fever or flu-like symptoms until he/she has exhibited a temperature of less than 100.4 degrees Fahrenheit without the aid of fever reducing medications for 72 consecutive hours.
Hygiene
Campers and camp staff must demonstrate hygienic behaviors, such as coughing and sneezing into one's elbow, thoroughly washing hands for 20 seconds with soap and water, and avoiding close proximity with one another.
Campers and camp staff will have access to soap and water and/or hand sanitizer throughout the day and must wash their hands before and after meals.
Signs will be posted in cabin restrooms on how to prevent the spread of COVID- 19.
Social Distancing
To the extent possible, camper and staffing groups will be as static as possible by having the same group of children paired with the same staff.
Each camp and each individual group will have access to designated restrooms throughout the day. Camp staff will be present to ensure that campers move in and out of the restrooms quickly, maintain social distancing, and wash their hands.
Water bottles, bags, and all other personal items will be spaced out to allow campers to maintain 6 feet of distance between one another. Campers will only be able to access their own belongings – no sharing of any personal items will be allowed.
Bring Your Own
Water bottles – campers will need to bring their own water bottles, conspicuously labeled, to avoid drinking from water fountains. Water bottles can be refilled in the dining hall. Bottled water will be available for purchase by campers, but names should be written on bottles to avoid sharing drinks.
Cleaning
During camp activities, camp staff will clean all shared spaces such as tables and countertops between activities. All shared objects will be cleaned between uses as well.
At the conclusion of each camp, camp staff will again clean shared spaces, surfaces, equipment, and other materials as well.
Protocol For Positive/Suspected COVID-19 Cases
LRC CANNOT disclose the identity of campers or staff who test positive (or who are diagnosed) for COVID-19 to parents/other campers. Subject to any additional recommendations of a qualified health care provider, there will be, at a minimum, a 14-day mandatory quarantine window for any such camper or staff member. LRC will ask the infected individual (to the best of his or her recollection) to:
Identify all areas where they were physically present. These areas should be sanitized immediately by a qualified professional or in accordance with CDC guidelines.
Identify anyone (staff and other campers) they came into direct contact with.
LRC will contact anyone identified above. Without disclosing the infected individual's identity (in accordance with federal and state laws), LRC will advise those at risk that an individual who has been physically present in their area has tested positive for the virus or been diagnosed as having the virus. Therefore, out of an abundance of caution, LRC will request that all such identified persons stay home for the next 14 days at a minimum and encourage them to self-quarantine. LRC will encourage them to reach out to a qualified health care provider to seek advice as to what additional steps, if any, should be taken at that time, including whether the 14-day quarantine period is sufficient.
Resources
Please review the CDC and Texas government websites for updates on pre-cautions, resources, and recommendations in correlation to the progression of COVID-19.
Below are useful links to answer questions such as: What should I do if I might have been exposed? What should I do if I test positive for COVID-19? How do I protect myself?
Here's all the information you need to know about sending your camper to Summer Camp with us this year.